Społeczność CCSD59 zjednoczyła się, aby pomóc ofiarom huraganu
W ciągu ostatnich kilku miesięcy, prawie nie można było włączyć telewizora, sięgnąć po gazetę lub zajrzeć do internetu, aby nie usłyszeć informacji na temat ludzi dotkniętych klęskami żywiołowymi w Teksasie, na Florydzie i w Puerto Rico. Wielu z nas słyszało lub czytało o zniszczeniach lub oglądało zdjęcia z następstw klęsk, które kosztowały życie, zdrowie, domostwa lub środki utrzymania wielu ludzi.
Przy tak dużej liczbie miejsc w Stanach Zjednoczonych dotkniętych klęską i potrzebujących pomocy, także w stanach okolicznych, w każdej klasie wśród naszych uczniów słychać było głośno o chęci działania i niesienia pomocy.
Jednym z założeń dystryktu CCSD59, jest Obywatelska i Globalna Odpowiedzialność, na którą składają się elementy, których można nie tylko nauczyć, pomagając ludziom dotkniętym huraganem, ale która wiąże się z głęboko zakorzenionym poczuciem humanitaryzmu i empatii. Elementy te obejmują:
Osobiste włączanie się w to, co się dzieje na szczeblu lokalnym i globalnym;
Okazywanie współczucia, empatii i szacunku; oraz
Przyczynianie się w znaczący sposób do wspierania szlachetnych działań
Podobnie jak wielu troskliwych ludzi na całym świecie, uczniowie CCSD59 i ich rodziny z całego dystryktu zadali to samo pytanie: jak możemy pomóc?
Uczniowie, rodziny, pracownicy i lokalna społeczność z każdej ze szkół CCSD59 zjednoczyły się, aby pomóc pokazać, jak daleko w obliczu kryzysu mogą sięgać współczucie, życzliwość i hojność. Chcielibyśmy podkreślić niektóre ze sposobów, dzięki którym nasz dystrykt wyciągnął pomocną rękę dla potrzebujących.
Jesteśmy niezwykle dumni z tych starań i ludzi, którzy się ich podejmują, bo z pewnością siła jest w liczbie. Zapraszamy do współpracy z naszymi uczniami i rodzinami, pracownikami i społecznością, zarówno w inicjatywach organizowanych przez nas, jak i w jakikolwiek inny sposób, aby pomóc tym, których dotknęły huragany.
Nasze serca i myśli będą nadal z wieloma rodzinami, które zostały dotknięte klęskami żywiołowymi, które zmieniły życie wielu obywateli na terenie całego kraju.
Aby złożyć donacje dla potrzebujących rodzin poprzez American Red Cross, kliknij here.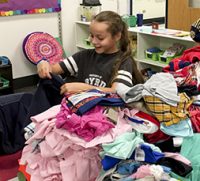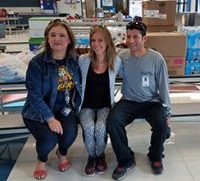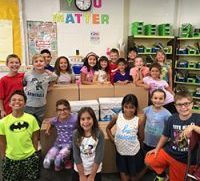 ---
Brentwood Elementary – PTO ze szkoły Brentwood wykorzysta fundusze z nadchodzącego rocznego jesiennego funduszu przewidzianego w razie kryzysu, Fun Run, i wystawi czek na rzecz organizacji wspomagającej lub zakupi książki i inne przybory szkolne, co zasili szkoły, które będą musiały zaopatrzyć się w nie na nowo.
---
Byrd Elementary – Uczniowie i personel zbierali odzież i przybory toaletowe dla uczniów dotkniętych huraganem Harvey. Zbiórka odzieży została zasugerowana przez Głównego Urzędnika Wsparcia Szkolnego w Dystrykcie Szkolnym Houston, ponieważ większość rodzin dotkniętych powodzią musiała wyrzucić wszystkie ubrania z powodu uszkodzeń spowodowanych wodą oraz pleśnią. Uczniowie z Byrd pomogli uporządkować, rozpakować i złożyć ubrania, a potem spakować wiele pudeł, które następnie zostały wysłane do Teksasu. Sklep UPS z Elk Grove Village, zlokalizowany przy Arlington Heights Rd, wysłał wszystkie dwanaście dużych paczek, nie pobierając żadnych opłat.
---
Clearmont Elementary – PTO Clearmont zorganizowała imprezę w Buffalo Wild Wings w dniu 11 września. Loteria wspierająca pomoc poszkodowanym zawierała bilety na mecz Blackhawks, kolację i kino, a także prezent od Buffalo Wild Wings. Fundusze z loterii i ze sprzedaży obiadów w Buffalo Wild Wings zasiliły akcję pomocy o 750 dolarów.
---
Devonshire Elementary – W ramach akcji niesienia pomocy uczniowie i pracownicy zbierali pieniądze do końca września. Uczniowie z programu Dual Language z klasy piątej udekorowali słoiki, i zanieśli je do wszystkich sal lekcyjnych, aby użyć ich do zbierania pieniędzy, i napisali list do rodziców w językach angielskim i hiszpańskim, wyjaśniając, dlaczego zbierają pieniądze. Uczniowie byli odpowiedzialni za zbieranie darowizn i śledzenie w każdym tygodniu ilości zgromadzonych donacji. Amerykański Czerwony Krzyż otrzyma kwotę w wysokości 1,070 dolarów na pomoc potrzebującym.
---
Early Learning Center – Zespoły pracowników szkoły uczestniczyły w "wojnie centowej", ofiarowując wszystkie fundusze na pomoc potrzebującym. W wojnie na centówki każda grupa dysponuje wiadrem do zbierania monet lub banknotów. Wartość wszystkich groszy zbieranych przez grupę liczy się pozytywnie w stosunku do tej grupy, podczas gdy wartość innych monet lub banknotów jest odejmowana, co zachęca do umieszczania w wiadrze konkurenta donacji o większej wartości. Wojna na centy przyniosła 316 dolarów, a zespół, który wygrał, wybrał konkretną organizację charytatywną, do której ta darowizna trafiła.
---
Forest View Elementary – Uczniowie i pracownicy przyjęli pod opiekę szkołę podstawową Robinson w Teksasie, która wymaga całkowitej odbudowy. Według wypowiedzi dyrektora szkoły podstawowej Robinson, otrzymanej drogą mailową: "Z 284 szkół w HISD z powodu poniesionych szkód 2 placówki wymagają całkowitej odbudowy… Szkoła podstawowa Robinson jest jedną z tych dwóch szkół. Ponadto, 10 stóp od mojego kampusu uległy zniszczeniu domy, i wiele z naszych rodzin nie tylko poniosło całkowite straty, ale i doznało skrajnej traumy… W tej chwili organizuję relokację 676 uczniów i 54 pracowników, którzy mają liczne potrzeby: od wsparcia niezbędnego w sytuacjach kryzysowych do podstawowych przyborów szkolnych". Społeczność Forest View zgromadziła 1000 dolarów, które zostaną przeznaczone na zakup kart upominkowych, aby pomóc tym szkołom, których problem dotyczy. Karty podarunkowe i karty wsparcia, sporządzane ręcznie przez uczniów, zostały przesłane do dyrektora szkoły podstawowej Robinson pod koniec września.
---
Friendship Junior High – Pani Davis współpracowała z uczniami, aby zebrać wiele przedmiotów potrzebnych dla rodzin i dla zwierząt domowych, które już zostały przesłane do  Teksasu. Ponadto, 20 września uczniowie i pracownicy mogli zapłacić jednego dolara za możliwość noszenia kapelusza podczas akcji "kapelusze dla ofiar huraganu", aby zwiększyć świadomość wszystkich o społeczeństwie dotkniętym niedawnymi huraganami. Zebranych 130 dolarów zostanie rozdzielone między Amerykański Czerwony Krzyż, a Houston Humane Society. Wreszcie, nasi mieszkańcy: pani Hahn i pani Wing organizują kiermasz dobroczynny, na którym będą sprzedawane ciasta własnego wyrobu, a który odbędzie się w październiku; wszystkie zebrane w ten sposób pieniądze trafią do Amerykańskiego Czerwonego Krzyża.
---
Robert Frost Elementary – podczas konferencji, która odbędzie się na początku października, uczniowie klas pierwszych i trzecich będą zbierać pieniądze, aby zakupić nowe książki dla szkoły w Teksasie. Podczas wspólnie spędzanego czasu wolnego uczniowie będą tworzyć plakaty reklamujące to wydarzenie i planować, które książki powinny zostać nabyte dzięki  zebranym środkom. Mają nadzieję, że uda im się zebrać wystarczające środki na zakup nowej książki dla każdej klasy dla wszystkich uczniów, a kiedy książki dotrą, porozmawiają o książce za pośrednictwem Facetime / Skype.
---
Grove Junior High School – 28 września uczniowie uczestniczyli w "Run for Relief" podczas zajęć wychowania fizycznego. Uczniowie poprosili sponsorów o darowizny, które zachęcą ich do pobicia ich osobistych rekordów podczas biegu. Lokalne firmy także przekazały środki na imprezę. Pracownicy mieli okazję dopingować uczniów, a podczas tego spotkania mogli też biegać razem z uczniami. Wydarzenie przyniosło 4.000 dolarów, a cały dochód z imprezy zostanie przekazany Amerykańskiemu Czerwonemu Krzyżowi w celu sfinansowania działań na rzecz pomocy.
---
Holmes Junior High – Uczniowie z klasy ósmej Advanced Language Arts rozpoczęli sprzedaż ciastek podczas domowych zawodów sportowych w piłkę koszykową, przeznaczając wszystkie wpływy na Amerykański Czerwony Krzyż. Cała szkoła planuje też zorganizować "wieczór filmu" lub "otwartą salę gimnastyczną" dla uczniów, przy czym wszelkie dochody z tych imprez przekazane Amerykańskiemu Czerwonemu Krzyżowi przeznaczone będą na pomoc poszkodowanym. Data imprezy zostanie ogłoszona, gdy będzie ustalona.
---
John Jay Elementary – Cała grupa klas czwartych wraz ze swoim nauczycielem będzie zbierała książki dla dzieci, aby pomóc wielu szkołom, które pytają o książki i materiały szkolne dla uczniów dotkniętych huraganem. Daty gromadzenia i logistyka są na etapie planowania.
---
Juliette Low Elementary – Przyjaciel rodziny jednego z asystentów dwujęzykowego programu w Low zabrał przedmioty, które zostały przekazane przez personel szkoły, do Houston. W ciągu zaledwie dwóch dni zebrano wiele toreb darowizn z konserwami, butelkowaną wodą i sokiem, odzieżą, ręcznikami papierowymi, przyborami toaletowymi i wieloma innymi, które zebrano dla obszarów objętych powodziami, które tych rzeczy potrzebują.
---
Ridge Family Center for Learning – Darowizny na przybory szkolne, mundurki szkolne, odzież, przybory toaletowe i inne rzeczy zostały zebrane przez wszystkich uczniów i pracowników Ridge i ich rodzin. Cała szkoła pracowała rano w piątek 22 września, aby przygotować rzeczy do wysyłki, od dekoracji pudełek i przygotowywania notatek, do pakowania, oklejania taśmą i przenoszenia pudełek. Po zakończeniu tych czynności, do szkoły podstawowej Guess w Beaumont w stanie Teksas zostanie wysłanych około 37 pełnych pudełek, w ramach programu "Adopt a Texas School", aby pomóc uczniom i szkołom w zaopatrzeniu w potrzebne przedmioty. #adoptaTXclassroom
---
Rupley Elementary – PTO w Rupley przekaże fundusze zebrane na pierwszym spotkaniu "Food For Fundraiser", w Lou Malnati, w środę, 4 października, od 11:00 do 12:00, na 1050 East Higgins Road, w Elk Grove Village. Wszystkie wpływy zostaną wysłane do Amerykańskiego Czerwonego Krzyża.
---
Salt Creek Elementary – Do Milby High School w Houston, w ramach programu "Adopt Texas School", wysłano karty upominkowe o wartości ponad 800 dolarów do dyrektora szkoły. Karty upominkowe będą używane do nabycia przyborów szkolnych, żywności, kosmetyków i wielu innych podstawowych produktów, wskazanych przez dyrektora szkoły.
---
Ad Center: Przekazane przedmioty zebrano w centrum administracji Veterinary Speciality Center w Buffalo Grove (Centrum Weterynaryjnego) w celu ratowania bezdomnych zwierząt w Teksasie. Wiele toreb z kocami, ręcznikami, karmą dla psów i kotów, żwirkiem dla kotów i innymi niezbędnymi przedmiotami przywieziono do VSC, by wysyłać do Teksasu.